Contact Us
In order to help match the pace at which it is growing, the JMS Team will be adopting a new phone system service. 
Jonas Metals Software will go live with this new system on the 12th of January, 2023.
Once the new phone system has been implemented, updated contact information will be divulged promptly.
Innovation should be encouraged, and no idea is a bad idea.
Suggestions for improvements can come from any area of a business as well as your existing customer base (who else knows what they want better than the customers themselves). At Jonas Metals, we are constantly pushing to develop our product to continuously improve the functionality and user experience to keep up with the ever-changing requirements of the metals industry. This drive for innovation is shared and actively encouraged within the wider Jonas group and this year, JMS entered our mobile warehousing module for the Jonas Annual Innovation Award. Whilst we don't want to sound too optimistic at this early stage, after the first round of voting we are currently in first place for the award at our group's annual business awards which will be held on January 27th, 2023. We will provide an update once the results are in.

What's Already Finished: 
iMetal v4.5 has been released already and included features such as stock item enquiry and printing stock item labels.
What's to Come: 
The iMetal Mobile Roadmap teases a number of features for iMetal clients, and other such innovators, to look forward to.
Picking and moving stock items

Picking and moving stock items to the workcenters

Picking and moving stock items for transport

Live stock take recording

Stock adjustments

Stock location update

Updating the location entry for a scanned stock item 

Updating the stock location of the stock items as the location they are scanned

Picking and moving enhancements

Picking for order delivery and transports 

Picking and moving Goods Inwards items to their locations

Stock take enhancements

Splitting stock items

Flagging stock take entries with issues for supervisor reviews

Adding comments and images

Stock adjustments

Confirming the production operations

Job search, selection and assignment

Registering outputs pieces, quantities and weight

Operation completions

Logging process times

Printing shipping labels

Confirming Bill of Lading and Manifests

Picking based on Bill of Lading

Viewing stock item details

Comparing and validating what's been loaded on trucks against the BoLs/manifests

Picking and moving enhancements

Viewing picking lists 

Filtering items in picking lists by bay, location, warehouse, grade, and thickness

Adding and removing items from the picking list

Searching alternatives for a stock item to pick

Handling items for outside processing

Job lists for operators

Operators to view jobs assigned to them

Operators to take on jobs from the job queue for the day

Production supervisors to assign jobs to the operators

Role based dashboards as Home page

Operational dashboards for operators (shop-floor/workcenter, picking)

Dashboards for transport planners

Dashboards for production supervisors

Dashboards for executives

Enhancements for BoL validations

Comparing ordered and delivered weights

Releasing or blocking despatch notes for invoicing based in BoL/manifest validations

Enhancements for production confirmations

Enhancements for Goods Inwards validations
Formed by the merger of three exceptional metals industry solution providers (Metalogic, Compusource, and PCI), the Jonas Metals Software team has immeasurable experience across every sector of the metals manufacturing, processing, and distribution industries.
Our combined group has grown exponentially and will continue to grow. Our individual National brands, however, have not reflected this evolution. New opportunities arise as we invest extensively in the ongoing improvement of products, services, and processes.
That's why we have begun our Global transformation as JMS. Our Jonas Metals Software identity has been introduced to better connect with our clients and better represent the global nature of the work we do and the market we serve. 
As we continue to expand the JMS brand, we will be updating our company email addresses to all have the same domain: "…@jonasmetals.com"
However, some things remain unchanged such as our unwavering commitment to deliver excellent service to our clients. 
On July 21st, JMS' Jon Fox and Nigel Johnson teamed up with Mark Bradford (SteelStock) and Gary Peters (Leengate) as they headed off to Breadsall Priory Hotel & Country Club for a spot of golf. 
Racing across the course in their buggies they managed to win the Best 2 from 4 Team Competition with 44 points. Gary Peters took home the Nearest the Pin Hole 6 Sponsored by Tokio Marine.
After what must have been a very good lunch, our hotshot clients brought home yet more trophies with Gary Peters taking 3rd Place in the individual Stableford and Mark Bradford winning the Hidden Challenge Sponsored by AON. 
For more information on the golf outing and scoring, visit the NASS' write-up here!
Images courtesy of NASS
Drilltech UAE – A Bit of Background
Drilltech UAE (Drilltech Oilfield Equipment Manufacturing and Services LLC) is a premier provider of oil field engineering solutions with locations in Abu Dhabi and Dubai. It is owned by the AJ Al Asmawi Group of Companies, one of the largest business conglomerates in the region
"Through the last 50 years, AJ Al Asmawi Group has developed lucrative projects and ventures in Dubai's bustling, modern business eco-system. We strive to provide service excellence and a unique experience to all clients through our professional and passionate teams" 
Drilltech isn't just your typical steel stockholder. They also offer detailed CNC machining of products created from speciality metals and sourced from mills and local stockholders. The material that Drilltech manufactures and sells is a bit more intricate than the standard angle, channel, or beam that many in the metals industry are familiar with. Due to the intricacy of these products and the importance of consistency, quality control is crucial to Drilltech. Their commitment to their quality policy is highlighted on their website and it is clear that they take pride in the quality of their work and their commitment to improvement. Drilltech was in need of a system that was not just reliable and accurate when it came to tracking materials, specifications, and certifications across their entire inventory, but a system that would also provide useful reporting for every stage of the process.
Enter iMetal – Provider of Solutions
The original reason Drilltech decided to install iMetal was because of the easy traceability. iMetal's precision accurate data recording gave Drilltech the ability to track the status of each and every order without needing to rely on any single department in the process. iMetal's reporting proved to be even more helpful than they had originally hoped. With iMetal's expansive reporting, Drilltech is able to monitor their entire production process with ease, allowing the team to identify issues or delays immediately and resolve them before they can further escalate.
Drilltech emphasised that they needed a system as soon as possible and the JMS team rose to the challenge. From conception to Go-Live, the implementation and training of iMetal took about 8 weeks. This included three weeks of on-site training provided by the JMS support team.
Mark Beard, an experienced Jonas Metals Software consultant and iMetal specialist was on site for the implementation and worked with Drilltech's team to design the system to be tailored to their needs. For the final end-user training, Mark and the Drilltech team were joined by another member of JMS, professional services manager Nigel Johnson. Mark and Nigel made a great team and helped get Drilltech familiar with iMetal within the target go-live range.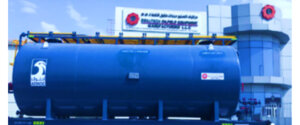 Tarek Oudeh, GM of the Dubai plant, was a bit astonished to see how much of a change iMetal could make for Drilltech and how quickly those changes were realised. 
"I believe this is very useful in retrieving order information at any stage without relying on a specific process team. Tracking status is also very useful for planning upcoming tasks even before releasing an order. Delays are reduced, and public awareness of a released order is increased. It is extremely useful for developing a proper process plan because it displays the load on each and every machine in the facility, as well as the tasks scheduled in them on a date-by-date basis."

– Tarek Oudeh
To Tarek, the most important feature of iMetal is report generation. By holding each member of the team accountable for updating their processes to reports, communication and teamwork have become focal points of their success. 
The JMS Team is elated to partner with such an intelligent and hard-working organisation as Drilltech UAE to provide practical software solutions that make an immediate difference. With the iMetal platform now implemented in sites across the UK, North America, and the Middle East, JMS is proud of its growth. We only hope that our next opportunity is to offer our software solutions to you!
Starting from iMetal version 4.5, Jonas Metals Software will introduce new approaches in product and release management within the organisation.
While increasing the size of the product development team, JMS has brought in agile development and release management practices. The objectives are to:
Be able to respond to the customer and market requirements faster
Be flexible and adaptable to the change requests, 
Manage the development and release processes in a predictable and transparent manner
Align the whole organisation and its activities to support the release plans and schedules. 
One of the main changes in the processes is the selection of new features and enhancements for the next release. The product management team will determine the scope for the next release by working with our customers, both internal and external. The selection process takes an economic view of the requirements such as the benefit of the feature to the customers, its value to the overall product and its scale of investment, and the market view. Strict change management processes will be in place for the release scope change requests. 
Another change is in the number of releases per year. JMS/Metalogic will release two major versions in six months, one in April and the other one in October, which are called General Availability releases (GA Release). Major releases, or GA releases, will contain new features, enhancements and improvements. Besides major releases, there will be release updates for the supported iMetal versions each month. Release updates will only contain the fixes for the issues reported by the customers and internally, and improvements, however no new features or enhancements will be included in the release updates.
One month before each GA release in April and October, a Beta Testing Programme will start. In the Beta Testing Programme (BTP), the participating customers will be able to see and experience the new features and enhancements. The objective is that the customers participating in the BTP should upgrade to the new version shortly after the GA release is published. 
JMS/Metalogic will start the recruitment process for the upcoming BTP for each release by contacting customers and informing them about the BTP. The product management team will formally invite the customers who are willing to participate in the BTP programme.
Each release will come with a release note document, in which all the changes made in the software since the last version are reported. Therefore, it is recommended to review the release notes before planning to upgrade to a major version or apply the release update.
The release document will also contain the section "What's New" where all the new features and enhancements are briefly described. Where possible, short introductory recordings for the new features and enhancements will also be shared as part of the installation.
In order to plan, schedule and manage the product development and release cycles, and manage the issues reported by our customers, JMS/Metalogic has invested in and implemented the best products in the market.   
JMS/Metalogic has a continuous learning culture and pursues relentless improvement in the product development, release and support areas.
On Wednesday, June 1, the United States officially ended Section 232 steel and aluminum tariffs for most products coming from the United Kingdom. The Biden administration's temporary, one-year suspension of the Section 232 duties on steel products from Ukraine also took effect the same day.
As Connecting the Dots reported previously, in March U.S. Commerce Secretary Gina Raimondo and U.S. Trade Representative Katherine Tai announced an agreement with the British government to replace the penalties with a system of tariff-rate quotas, or TRQs.
The agreement, which went into effect June 1:
Establishes a TRQ that will allow certain volumes of British steel and aluminum to enter the United States duty-free. Once shipments reach more than 500,000 metric tons for steel and 900,000 metric tons for aluminum, they would be subject to current Section 232 penalties, which are 25 percent for steel and 10 percent for aluminum. In order to be eligible for duty-free treatment, steel imports generally must be "melted and poured" in the UK and have a UK country of origin. Aluminum imports are subject to "smelt and cast" provisions where producers must prove products contain no aluminum from China, Russia, or Belarus.
Requires attestations in cases where a known UK steel producer is owned or controlled by a company registered in China or a Chinese entity and exports steel to the U.S. government.
Requires a UK steel company owned by a Chinese entity to audit their financial records to assess influence from the Chinese government. The results of the audit must be shared with the U.S. government.
Requires the United States and UK to confer on non-market excess capacity and on the situation in global steel and aluminum markets, including market trends, domestic industry conditions, and analysis on import and export data. The two governments also will monitor steel and aluminum trade between the two countries and will share publicly available information and best practices on topics including fraud detection, evasion, and circumvention of duties.
Requires the UK to terminate the retaliatory tariffs it imposed on approximately $500 million worth of annual imports from the United States, including distilled spirits, various agriculture products, and consumer goods.
Read the White House proclamation here. Read the announcement from the British government here.
Story via MSCI