Request a demo
Drilltech UAE – A Bit of Background
Drilltech UAE (Drilltech Oilfield Equipment Manufacturing and Services LLC) is a premier provider of oil field engineering solutions with locations in Abu Dhabi and Dubai. It is owned by the AJ Al Asmawi Group of Companies, one of the largest business conglomerates in the region
"Through the last 50 years, AJ Al Asmawi Group has developed lucrative projects and ventures in Dubai's bustling, modern business eco-system. We strive to provide service excellence and a unique experience to all clients through our professional and passionate teams" 
Drilltech isn't just your typical steel stockholder. They also offer detailed CNC machining of products created from speciality metals and sourced from mills and local stockholders. The material that Drilltech manufactures and sells is a bit more intricate than the standard angle, channel, or beam that many in the metals industry are familiar with. Due to the intricacy of these products and the importance of consistency, quality control is crucial to Drilltech. Their commitment to their quality policy is highlighted on their website and it is clear that they take pride in the quality of their work and their commitment to improvement. Drilltech was in need of a system that was not just reliable and accurate when it came to tracking materials, specifications, and certifications across their entire inventory, but a system that would also provide useful reporting for every stage of the process.
Enter iMetal – Provider of Solutions
The original reason Drilltech decided to install iMetal was because of the easy traceability. iMetal's precision accurate data recording gave Drilltech the ability to track the status of each and every order without needing to rely on any single department in the process. iMetal's reporting proved to be even more helpful than they had originally hoped. With iMetal's expansive reporting, Drilltech is able to monitor their entire production process with ease, allowing the team to identify issues or delays immediately and resolve them before they can further escalate.
Drilltech emphasised that they needed a system as soon as possible and the JMS team rose to the challenge. From conception to Go-Live, the implementation and training of iMetal took about 8 weeks. This included three weeks of on-site training provided by the JMS support team.
Mark Beard, an experienced Jonas Metals Software consultant and iMetal specialist was on site for the implementation and worked with Drilltech's team to design the system to be tailored to their needs. For the final end-user training, Mark and the Drilltech team were joined by another member of JMS, professional services manager Nigel Johnson. Mark and Nigel made a great team and helped get Drilltech familiar with iMetal within the target go-live range.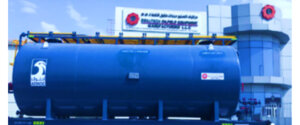 Tarek Oudeh, GM of the Dubai plant, was a bit astonished to see how much of a change iMetal could make for Drilltech and how quickly those changes were realised. 
"I believe this is very useful in retrieving order information at any stage without relying on a specific process team. Tracking status is also very useful for planning upcoming tasks even before releasing an order. Delays are reduced, and public awareness of a released order is increased. It is extremely useful for developing a proper process plan because it displays the load on each and every machine in the facility, as well as the tasks scheduled in them on a date-by-date basis."

– Tarek Oudeh
To Tarek, the most important feature of iMetal is report generation. By holding each member of the team accountable for updating their processes to reports, communication and teamwork have become focal points of their success. 
The JMS Team is elated to partner with such an intelligent and hard-working organisation as Drilltech UAE to provide practical software solutions that make an immediate difference. With the iMetal platform now implemented in sites across the UK, North America, and the Middle East, JMS is proud of its growth. We only hope that our next opportunity is to offer our software solutions to you!
John Padbury, General Manager with Metalogic Bear'd all last Friday at the company's Christmas Town Hall meeting.
This wasn't a long-held desire by John to get in touch with his bear side but all part of a fundraising effort for the Pituitary Foundation.  
Metalogic are part of a number of companies owned by Jonas Software who's chosen charity this year is the Pituitary Foundation and as combined group businesses have raised an amazing £20,000! This is great news for this relatively small charity aimed at improving the lives of those affected by disorders of the pituitary gland which although rare (around 70,000 patients in the UK) misdiagnoses are a common problem and some reports suggest that many more people could have an un-diagnosed pituitary issue.  
John got more than he bear-gained for when he challenged his team to come up with fundraising ideas and the more money raised the more 'challenging' the outfit was to be!  Narrowly missing out on the Pikachu outfit John did take his fundraising seriously when nominated to 'wear the Bear' and was tasked to spend the day in it, from the moment he left the house to his arrival at the Hyatt Regency on Broad Street, Birmingham and throughout the day as he delivered and chaired the meeting! There were some interesting encounters along the way as the pictures show. 
John would like to say Many Thanks to all those who donated, it really was much appreciated.  If you feel so inspired that you would like to add to John's fundraising efforts for this extremely worthwhile cause then please do visit his Just Giving page.
The Metalogic team also supported Christmas Jumper Day at the same meeting raising money for Save the Children's Christmas Jumper Day with the winning 'Reinbeer' jumper being sported by Neil Webb, Customer Support Team Leader.
Since it's launch iMetal has seen unprecedented growth in the marketplace with new and existing customers taking advantage of the cost savings and productivity benefits the system brings.
iMetal is a multi-metals product and as such has been implemented this year across the non ferrous flat rolled and general steels sectors with over ten new clients plus a number of upgrades taking place already
Two significant implementations in the aluminium sector have been Kent based Dore Metals and LA Metals in the West Midlands.  Both companies have experienced growth in the sector and with it the need to implement a system that would allow them to continue to expand and improve productivity.
Look out for future case studies to understand how iMetal is improving productivity for our customer base.
NEW FUNCTIONALITY
Whilst the customer base have had for a number of months the ability to view enhanced functionality through the links in their website Metalogic have decided to showcase to a wider audience the new and enhanced features available in the latest releases of iMetal.